Editor Help
The following are a few of the most common issues we hear about.
Multi-Factor Authentication (MFA)
Power Poll contains contact information and other sensitive data for thousands of Members. Each Editor has complete access to this information for all of the Members in his/her Area(s). Power Poll has a responsibility to safeguard this information and, as a security precaution, we require Editor-level accounts and higher to utilize Multi-Factor Authentication (MFA). Power Poll utilizes the open standard Time-Based One-Time Password (TOTP) algorithm. You can learn more about it here, if you wish.
MFA comes into play after your password has been authenticated, where you will be asked to enter a six digit numeric code that changes every minute.
To obtain that code, you will need an MFA device. You will be prompted to set up your MFA device after setting your initial password. There are a variety of solutions for the MFA device, since it's an open standard. Here are a few:
Solution 1: Google Authenticator.
Google Authenticator is a free app for Android, iOS, and BlackBerry OS devices. It's easy to use (because there aren't many options) and, if your device has a camera, you can even scan a QR code to complete setup, as opposed to typing in a large string.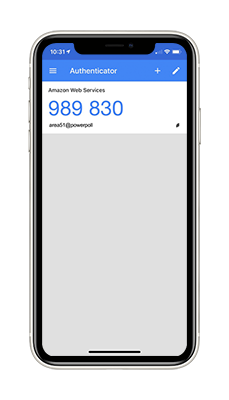 Once you have it set up, you'll simply launch the app to obtain a code whenever you sign in. In the example above, the code is 989830.
This solution has been thoroughly tested with Editors and Power Poll and is not only our recommended solution, but our only one at this time. You can download Google Authenticator from your OS's App Store.


I Can't Sign In
Solution 1: Reset your password.
On the sign-in page, enter your email address, then tap the "Set or Reset Password" button. You will receive an email with a one-time use URL where you can reset your password.
Note that if you attempt a handful of bad passwords within a certain amount of time, you will be locked out from the dashboard for a few hours.
Solution 2: Reset your account.
If you have lost your MFA device or deleted it or if you can get past the password page, but your MFA authentication fails, you will need to have your account reset. Please contact support@powerpoll.com for help.